Proposed ALR Inclusion of Federal Lands in the City of Surrey
Acting under section 17(1) of the Agricultural Land Commission Act (ALCA), the Agricultural Land Commission is initiating a proposal to include 123.6 ha (~305 acres) of land within the City of Surrey into the Provincial Agricultural Land Reserve.
The subject land is comprised of five contiguous properties owned by the Government of Canada. Approximately 89 ha (~220 acres) of the lands are currently leased to local agricultural producers for field crop production. The Government of Canada is considering disposition of the properties, which may leave the lands vulnerable to future changes in land use.
Given the longstanding agricultural use and productivity of the properties, the Commission considers that the lands may be suitable for inclusion to the ALR. The ALR designation would apply a layer of provincial land use legislation (the ALCA and ALR Regulations) to the lands to preserve their availability for current and future agricultural use. The Commission will consider the matter in early 2023 following a Public Hearing.
More information about the proposal and subject properties can be found in the documents linked below.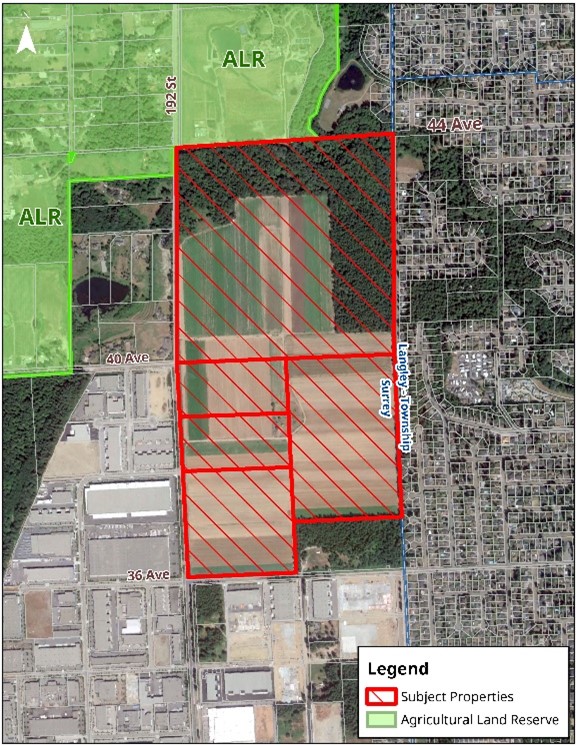 Public Hearing
The Commission commenced a Public Hearing on the matter in accordance with section 17(2) of the ALCA, on January 23, 2023 at KPU Langley Campus Auditorium.
The Commission has now adjourned the Public Hearing for the limited purpose of receiving submissions from the City of Surrey, affected First Nations, and His Majesty the King in right of the Government of Canada (as registered owner of the subject lands).
Please note that the public submission period is now closed. A transcript from the Public Hearing and written submissions received within the applicable submission period are available to view below.
For further information please contact Mike Bandy, ALC Regional Planner, at ALC.Referrals@gov.bc.ca or 604-660-7000